Sign Up
Join the Sunflower Oracle Wellness Network
Add your Healer Profile

 Example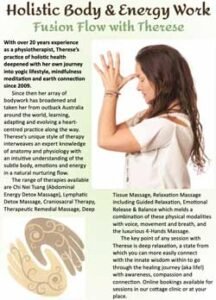 Pricing options to suit your Healer Profile entry can be selected below.
The following options outline your investment to join Sunflower Oracle magazines and directories:
A. Listing in four Quarterly magazines ($100 value) + inclusion on our website Directory for 12 months ($70 value) $170
B. Listing in two Quarterly magazines ($80 value) + inclusion on our website Directory for 6 months ($40 value) $120
C. Listing in one Quarterly magazine ($60 value) + inclusion on our website Directory for 3 months ($30 value) $90
As a new healer in our magazine, you will receive a full page feature Profile (including one or two photos) in the front pages of the next magazine. You will need to write a maximum of 220 words about yourself and what you offer. For subsequent issues your Profile will be reprinted in the magazine as a half-page.
On our website your Profile will be featured with our other healers and your details will be included in the appropriate Directory.
Our Core Modalities guide
Many healers and practitioners provide services across a range of modalities.
Below are the descriptions of the classifications we have used in our Directories.
Animal Healing – also known as whisperers, plus animals used in healing.
Bio-Energy Manipulation – using the energy system to create change physically, including reflexology, contact care.
Device Based – devices and objects as the primary focus, including tarot, sound healing, light therapy, ozone therapy, float therapy, acupuncture.
Mental and Emotional Healing – assisting change, including psychology, NLP, Journey work, meditation.
Mind Body Integration – achieving change by through movement, including yoga, Nia dance, Thai yoga, somatic movement, ecstatic dance.
Physical Movement – achieving either physical or bio-energy change, including holistic personal training, tai chi, yoga, Qi gong.
Psychic Mediumship – providing readings.
Reiki – from rei (universal) and ki (life energy), to remove blocks and increase energy flow.
Retreats / Workshops – including day and multi-day, live-in or non-residential.
Skeletal Manipulation – achieving physical change, including chiropractors, osteopaths, cranial sacral therapy.
Soft Tissue Manipulation – achieving physical change, including most forms of massage.
Substance Based – using natural healing and health products to encourage physical change, including aromatherapy, natural mum and baby products.
Subtle Energy – focusing on changing the energy system, including Reiki, healing touch, access bars.
One Year Subscription
Receive Sunflower Oracle printed magazine, 4 editions per year.