"Don't sweat the small stuff."
Jess Stewart makes a wide range of natural remedies to support Mums through the different stages of pregnancy and beyond. Here is a review of some of her products for babies and Mums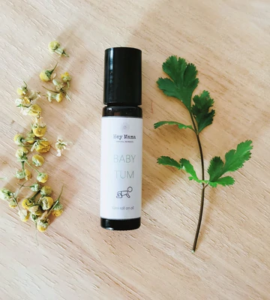 Baby Tum – This prediluted essential oil blend is designed to naturally support your baby's digestive system. Maybe helpful if your baby is experiencing trapped wind, gas, bloating, tummy pains, constipation or colic-like symptoms. This was a beautiful oil to roll on baby's tummy and gently massage to soothe her uncomfortable digestion.
Well Baby – Perfect to use when your baby is attending playgroups or preschool to help keep the bugs at bay. Can be used before and after vaccinations to support their immune system, or any time when baby is snuffly, congested, rundown or experiencing cough and cold like symptoms. Nice way to tickle baby's feet while putting in some goodness.
Calm Baby – May be helpful if your baby is experiencing teething pain, fussiness, is restless, overtired, nervous, anxious, hard to settle to sleep or has difficulty staying asleep. We used it to help our little one fall off to sleep, and stay sleeping! Beautiful blend of relaxing oils, easy to roll onto feet before booties and bed.
Milk Drops – A prediluted essential oil blend that naturally supports breast milk production. Helpful if you are still waiting for your milk supply to come in or are struggling to produce enough milk for your hungry wee baby. Pleasant tasting and easy to take. Seemed to help me boost milk supply over a couple of days.
Milk Flow – Helpful if you are still waiting for your milk supply to come in or are struggling to produce enough milk for your hungry wee baby. A nice product to apply and have some feet up time while it soaked in!
Boob-Ease Nipple Balm – Breastfeeding can wreak having on your nipples, so Boob-Ease will be your new best friend! Made from nourishing butters and oils, it helps soothe and heal dry, sore, and cracked nipples. A delicious cocoa smelling product which was nice to apply and kept my nipples supple and protected!
– Review by Samantha
Q&A with Jess Stewart
What products do you offer?
I am a qualified medical herbalist and I make natural products and herbal remedies to support Mum's wellness through the different stages of pregnancy, the birth and into the postpartum period. I also make products to support the wellness of babies and toddlers. 
Why is this work so important to you?
I understand the physical, mental, and emotional challenges of being a new Mum. I've been there, I know how hard it can be. I also know from personal experience that natural remedies can help.
Could you tell us about how your interest in holistic healing began?
One of my earliest memories as a kid is of making up potions in the backyard using flower petals, weeds, grass, and dirt! I remember our Nana would read our tea leaves when we went to stay with her, and as a teenager I loved collecting crystals, and was fascinated by astrology. So, I guess I was always drawn towards holistic practices.
But it wasn't until I experienced a bad bout of glandular fever in my early 20's that I really started on my holistic journey. It left me struggling with extreme tiredness and fatigue and my liver was badly inflamed and not functioning properly. After many doctor visits and weeks and weeks off work, I finally visited an Ayurvedic practitioner that was recommended to me.
It changed my life! After just one month of working on dietary and lifestyle changes and taking the suggested herbs, I was feeling so much better (though I still had a lot of recovery ahead of me). It was a lightbulb moment – I realised that this was what I wanted to do and how I wanted to help people. So, I left my job and I signed up for 3 years of study to gain my Diploma in Herbal Medicine.
What obstacles did you face to get to where you are now and how did you overcome them?
The biggest challenge of my life was becoming a mum. The birth of my son was the most beautiful and empowering experience of my life. What I wasn't fully prepared for were the realities of the postpartum period. Though I had read about it extensively, the real thing was one heck of a rollercoaster ride. I experienced some major lows during this time. I felt a huge sense of lost identity – where was the person I had been before becoming a mum, and would she ever come back? I often felt isolated and lonely. I felt anger and resentment that my husband got to leave every day, his life seemingly unchanged, while mine had been turned completely upside down. I was sleep deprived and exhausted. At times I felt completely overwhelmed and would just sit by my son's cot and cry.
I got myself through this challenging time by supporting my body with herbs and foods that nourished my exhausted nervous system and replenished my energy and vitality. 
I used affirmations, goals, and daily gratitude practice to focus my energy on what was good in my life and the things I enjoyed. I also did a lot of learning about self-love and self-care. I learnt that it wasn't selfish to look after myself, it was actually my responsibility to do so. And that was really empowering and the major turning point for me.
It is what inspired me to create Hey Mama. I wanted to use my herbal knowledge and experiences to support other Mums to feel calmer, more balanced, and confident in themselves and empower them in their motherhood journey.
Who should seek your products for holistic wellness?
Any Mum or Mum-to-be who is interested in trying natural remedies and would like some support with their health and wellbeing.
Could you share a wellbeing tip with the community?
People are probably sick of hearing it, because it sounds too simple, but drinking 2L of water each day is one of the best things you can do to support your body!
If you could tell your younger self one thing what would it be?
Don't sweat the small stuff.