"Place your focus on the moment you are in."
Nicky Mann – Re:align
On a beautiful morning I attended a yoga Slow Flow class with Nicky. This was my first ever yoga class, and I confess I was a little worried about keeping up!
Nicky was very friendly and welcoming, and greeted everyone warmly. It was immediately comfortable and relaxing, setting up our yoga mats and chatting with each other as we prepared to start.
Nicky began the class with a short seated meditation and breathing exercise. She then led the class through a 90 minute slow flow sequence, that focused on loosening and strengthening the joints and muscles at the back of the body, and then the front.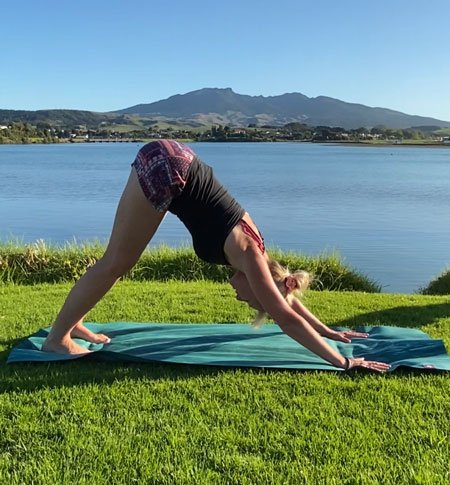 I was a newbie to the class, but other participants are regular participants in Nicky's classes. It was really nice to see and hear Nicky interact with her regulars, asking them how their knees were feeling or suggesting a modified pose to someone who has elbow trouble, or had difficulty sitting on the floor. Nicky really gets to know her students and where they are at in their yoga practice. Even though this was my first class, it made me feel really supported and confident in Nicky's guidance and care.
Nicky offers yoga to anyone, and particularly enjoys teaching outdoors. Why not book a class with her (one-on-one or with a few friends) at the beach or the Wainui Reserve this summer? Start the summer season like you mean to continue – with peace and unity!.
Q&A with Nicky Mann
What services do you offer?
At Re:align I have two main offerings, both entirely holistic – total body healing, within and without.
1. A 12 week wellness programme called The Pillar Code, that incredibly lifts your life in all ways. Calming the mind, clearing the body and connecting you to a purposeful life that you can confidently feel you have deliberately chosen and created.
2. I teach yogalates, and sometimes yoga – to lift your energy, clear physical blocks, reduce discomfort or pain and fully experience how a healthier body and calm mind greatly increases your enJOYment of life. I happily offer corporate sessions, workshops and retreats, community classes as well as private groups and individual sessions at your place or mine.
Why is this work so important to you?
I can honestly say I love what I do. People come to me knowing that their life experience could be improved and I have so many tools to help them lift into being the best they can be – to be able to move past old limitations that have held them back and to put it simply – appreciate and enjoy their life more.
Having learnt so much along my own journey, it just seems impossible not to share it with others.
Lifting our mental health, our resilience to deal with the daily stressors we are confronted with is so important. If this is left unaddressed it begins to be felt in the body – lower immunity means we are more susceptible to illness, therefore stopping a full and rewarding participation in life.
Could you tell us about how your interest in yogalates began?
I studied at Wellpark College full time for one year to immerse myself into a yoga practice. On completion, I was a qualified teacher. It had not been my intention to teach but so many asked me to share what I knew, that I slowly started with small local classes and as I realised the need was great and the benefits potentially life-changing, my offering grew organically.
I like to be offering the best service I can, and continued to learn various aspects of a yoga practice which eventually led me to Yogalates. It was another 6 month commitment, with a month away in Australia face to face, so as a single mum with 3 young kids, a bit of a challenge but so worth it. I love this modality – and so did all my yoga clients.
Yogalates combines the core strengthening and overall muscle toning practices of Pilates with the stretching, balancing and breathing practices of Yoga.
Why should people seek yogalates as a holistic wellness technique?
Why: – because this over-busy, over-stimulated, over-indulged life we lead impacts our mental and physical wellbeing. Increasing awareness of your choices, recognising the messages the body is sending and attending to those messages will 100% lift your potential for a full and enjoyable life.
Yogalates is suitable for anyone at any level of fitness or age. It's never too early to start – most wait until they have 'an issue' before they think to look to remedy it. Remember, prevention is better than (requiring a) cure.
Could you share a wellbeing tip with the community?
Accept your past as it has played out – you can't change it. Place your focus on the moment you are in – awareness that your beliefs and your emotional state determine the actions you then physically take. Make these positive and inspiring. Acknowledge what you do in the present determines how your future plays out – imagine your happy, healthy, successful future, then take action to move towards it.
If you could tell your younger self one thing what would it be?
Listen and learn all you can, but ultimately trust your gut and walk your own path. You are enough and you can do it.
– Experience and Interview by Ronja Skandera