Oracle decks are a tool of self-reflection and insight to add to your magical and spiritual practice, or just to use for fun. They can help answer questions that you have, provide guidance or support you on your life journey.
There are a variety of different oracle card decks that you can find at your local holistic wellness store or online. You just need to pick the oracle deck that speaks to you as each one is very different.
Oracle decks have a few rules:
Use your intuition – this is the biggest rule of Oracle cards. Use your intuition to choose the deck to work with and to interpret the cards.
Treat your deck like a sacred object – the more you care for the energy of your deck, the more accurate your readings will be!
Don't rely on the guidebook – use the guidebook as exactly that – a guide.
Pay attention to the imagery – pictures say a thousand words. Look at the imagery on each card and focus on what jumps out at you. It could be the whole image or a small part.
Retain a sense of wonder and magic when reading the cards – remember these cards help you get in touch with your inner self and your higher purpose.
Don't overuse the cards – find a rhythm that works for you, but allow adequate space between readings.
Here are some of my favourite oracle decks:
Moonology – these cards are easy to use and provide guidance using the phases of the moon. The imagery is stunning and if you are also into astrology there are cards linked to the moon in certain star signs.
Goddess cards – this was the first oracle deck I picked up after reconnecting with my spiritual side five years ago. Each card is a different Goddess or divine feminine figure providing different guidance, such as Joan of Arc, Brigid or Sappho to name a few. What I like most about this deck is you can just pick one card and it provides so much guidance.
Namaste affirmation deck – this is a really new deck for me. It is small (the size of a playing card) and provides a blessing for you on one side and an amazing hand painted image on the other. I use this deck every morning as part of my morning ritual to set up my day. I have even pulled cards for other people and they are always very synchronistic.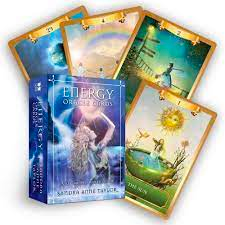 Energy oracle cards – if I want to do a full reading and receive some guidance and clarity around where things are in my life at a particular time, this is the deck to choose. Not only does it have traditional oracle cards like patience, balance, connection or yin and yang, it also has the archangels that are connected with the different chakras. I find this oracle deck provides a lot of clarity in a supportive and realistic way.
But at the end of the day you need to select the oracle deck that is right for you and that speaks to your heart and soul.
Happy guidance!
– Vicki Shannon